I've been spending the holidays in Toulouse, a town in the Southwest of France. The city itself nestles in the lowlands at the feet of the Pyrenees mountains.
I took a trip into the Pyrenees themselves yesterday, looking for some special wildlife.
Even my French companions were surprised to see one of the things we spotted: is there anything more French than a baguette vending machine?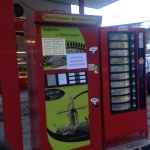 The dramatic mountaintops were peaked with snow, and the streets of the small town of Luchon were nicely iced.
On the coach ride to and from the train station I spotted a couple of black kites, shadowy versions of the red kite we're used to seeing in the UK.
Having arrived in Luchon I headed in the opposite direction of the ski enthusiasts, parents and children in brightly coloured blue, yellow and orange ski suits carrying their helmets and skis with pride.
A few minutes' walk out of the city centre were deserted mountain trails.
The faces of the mountains were patrolled by ravens and buzzards. As we picked our way up the treacherous mountain path a couple of buzzards tangled with a raven to our side.
At the top of the mountain snow falling from the branches was the clue that something was moving deep in the evergreen trees' undergrowth. After waiting a few minutes I heard the telltale electric buzz of mistle thrushes, who one by one left and flew off across the valley.
I might not have seen anything hugely rare, but the mountain birds I saw, and their setting, were dramatic and spectacular.
Now back in Toulouse, as I write this I'm looking out of the large double windows of the apartment into the courtyard. One the roof of the opposite building I can see a smart male black redstart working his way up and down the guttering searching for insects.
This bird is a rare sight in the UK but very common in France. Only about 40 pairs breed in the UK and around 400 winter there.
In France, they're a common sight in cities like Toulouse. In places like the cemeteries of Paris they are, in my opinion, the main attraction.
This was my first time birdwatching in southwestern France, and I'll definitely be back.