I can now relate to the opening lines of this National Geographic piece, which describes the early morning orchestra of rainforest sounds and the heavy, wet leaves which brush up against your face as you make your way through the undergrowth. I'm based in Borneo, but the NatGeo piece was written about one of the other most biodiverse places in the world, the Yasuní National Park in Ecuador.
Yasuní has rightly been recognised by UNESCO as a World Biosphere Reserve and by WWF as one of the most important 200 regions in the world to save.
In early 2013, hordes were beginning to gather at the gates of the Ishpingo-Tiputini-Tambococha (ITT) part of Yasuní. The adjacent Block 31 is now being drilled for oil, and some believe that this lays the groundwork and infrastructure for drilling to soon begin in the ITT block. ITT is in the heart of this National Park, where there are over 590 species of birds, over 250 species of reptiles and more plant species in one hectare than there are in the entirety of the USA and Canada.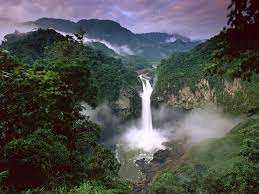 In 2007, the Ecuadorian Government backed a plan to protect the ITT from drilling, indefinitely. This proposal, which came from civil society, proposed the creation of a fund to compensate the country for foregone oil revenues. About 840 million barrels (20% of Ecuador's proven reserves) would be left in the ground, avoiding 410 million tonnes of carbon dioxide emissions. The proposal would have been a boon to biodiversity, the rights of indigenous peoples and efforts to tackle climate change. It would also have been a landmark example of paying a country to forgo revenue and therefore to forgo emissions.
Ecuador was relying on individuals, civil society, foreign governments and private investors to fill the fund administered by the United Nations Development Programme.
However, in recent years, drilling in Yasuní has increased and the ITT oil fields have come under increasing pressure.
In August this year, President Correa announced that because the fund had only received $13 million out of a required $3.6 billion, and a pledged $336 million, the proposal was being abandoned.
ITT will now be open to oil drilling unless civil society can mobilise a referendum supported by at least 5% of the electorate.
The fears are of ecological, social and climate impacts. 410m tonnes of carbon dioxide are the equivalent emissions of France in one year.
Drilling wells themselves will not be responsible for most deforestation. Instead it is associated infrastructure and colonization as people move to the area that will have the biggest impact.
ITT is home to three indigenous tribes (the Tagaeri, the Taromenani and the Onamenane) all of whom have chosen voluntary isolation. Oil exploitation would seriously threaten their wise to remain isolated from the outside world. However, efforts to undermine the rights of indigenous peoples have happened before in Ecuadorian history. In 1990 the Ecuadorian Government recognized the rights of the Huaorani people to 600,000 hectares of land, but crucially those rights didn't extend to the subsoil. Indigenous tribes continue to resist the advances of people linked to logging and fossil fuel industries into their territories, both within and outside a proclaimed Untouchable Zone where they are to be left entirely alone. Projects like ITT merely squeeze even further their traditional territory.
According to 2007 estimates, up to 65,000 m3 of solid waste and 390,000 m3 of liquid waste would be created. This would, according to oil companies, be left under the platforms, waiting for the rain to spread the contaminating compounds. On top of this, for every 20 barrels of oil, 80 barrels of sedimentary water are produced. This water is more saline than seawater and also laden with the chemicals from the drilling process. While oil companies are obliged to re-inject this water, geological problems can and already have arisen in other parts of Ecuador. Water can end up spreading into the wider ecosystem.
President Correa and his ambassador to the UK, Juan Falconi Puig, blame a lack of international will, claiming that developed countries have failed to live up to their responsibility to tackle climate change.
However, the former Minister for Energy and Mining, Alberto Acosta, who was a key player in the original 2007 plan, has said that the President and Government have never been consistently behind the plan from the start. He doesn't elaborate on this in his article. However, he could be referring to the segmentation of other parts of Yasuni for drilling, and clear preparations for drilling in ITT. Or he could even be referring to what Joan Martinez Alier of the Institute of Science and Technology refers to as Correa's internal boycott of the project. This refers to Correa missing key meetings and signings for the trust fund, and sending more junior Government in his place to official meetings.
More importantly, Yasuni has become the theatre for a tussle between environment, politics and industry. And it has become a test case for the international community's commitment to paying to keep fossil fuels in the ground. Sadly, it seems like it is on the brink of falling apart.
Sadly, the natural environment is being pushed aside for fossil fuels, which it is estimated will last 20 or 30 years at most. Given the predictions of the impacts of climate change, it's clear which is the long-term strategy for the security and wellbeing of Ecuador and its people.
In recent days, Australia's new Prime Minister, Tony Abbott, has announced approval for a massive new port to export coal from, a project which will seriously damage the Great Barrier Reef. I'll explore this second case of the natural environment being pushed aside in the name of our poisonous addiction to fossil fuels in my next blog post.